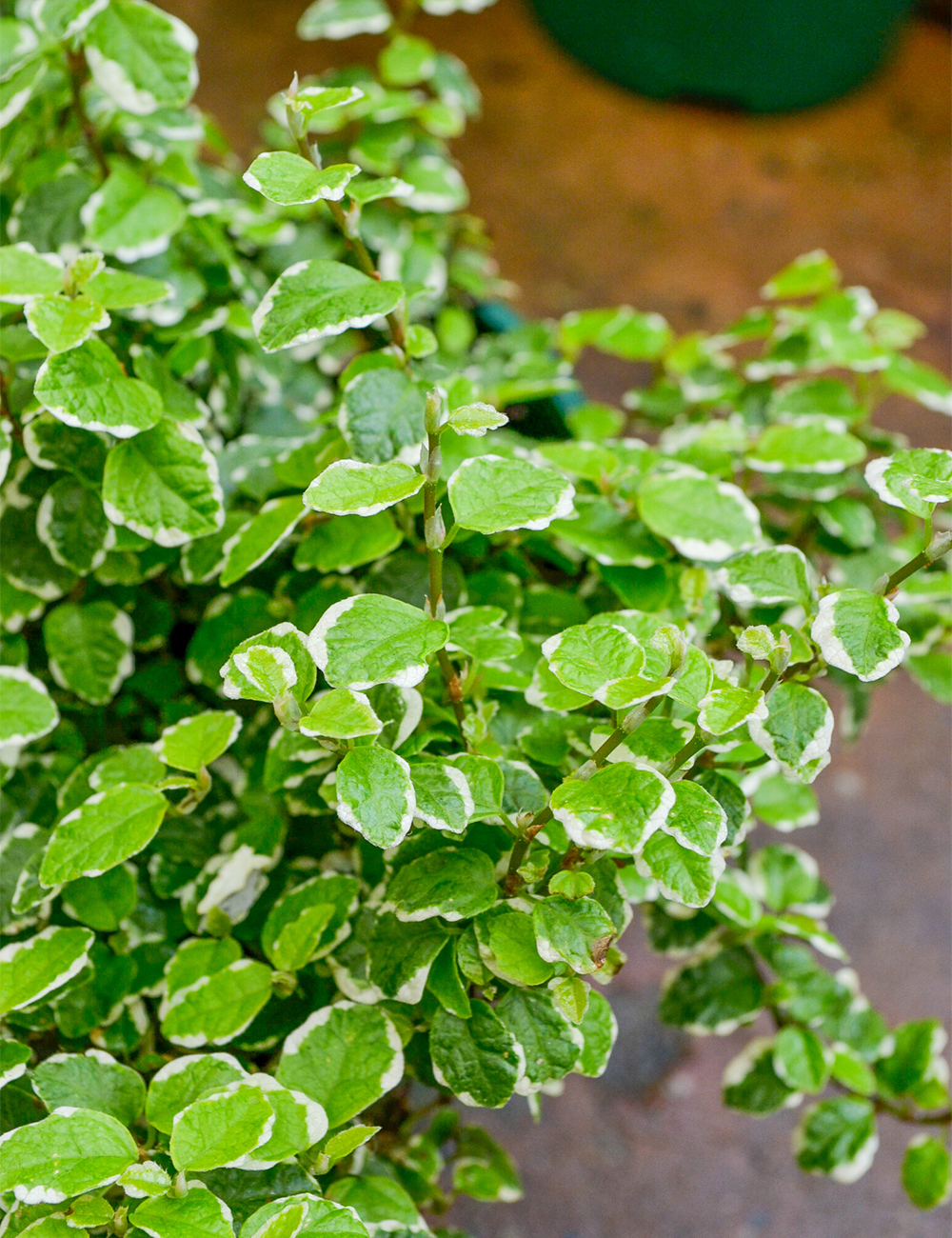 Creeping Fig 'Ice Cap'
A fast friend.
This product is currently out of stock and unavailable.




A beauty with crimpled leaves, each touched with frost. The leaves are small at first and grow larger as the plant matures.
If you are after a plant to wander up your wall, this is a great choice. It is quick to grow and, as it establishes will gently find its way up your wall, fence or window frame – no walls, no worries, they are a top choice for hanging baskets too.
It is virtually flat on the surface it grows and the small leaves are quite elegant. It will ramble or can be trained to eventually cover an area of around 60cm.
It will mark the areas it clings to, so it is best to choose a permanent spot or offer it something to climb on – in any shape you desire.
SIZE: 20-60cm x 20-60cm
I SEE THE LIGHT: Bright, indirect light is ideal. You should be able to read during the day in their position in the room without turning on a light. They can grow in artificial light and will need 8-10 hours of this a day – good news for the office.
WATER NEEDS: They are better to be too dry than too wet. Water fairly freely spring/summer and less in winter – every other week. The pot should be just moist, they will forgive you if you miss a watering or two, but will resent you if you leave them to sit in a puddle. Outdoors, water to establish (around 4 weeks of regular watering), then you only need to worry if rainfall is low.
I WILL SURVIVE: You can prune them as required in spring, they don't mind at all. Their ideal temperature range is 14-28C but are quite resilient. A diluted liquid fertiliser in spring/summer will keep them happy and healthy. Indoors you should regularly wipe the leaves to ensure they look good and stay healthy.

Ficus love to be crowded in, so there is no need to repot for a few years. Repot in spring, once they have reached their limit. Leafdrop occurs when your plant is unhappy, possible reasons for this is you've moved it to a new spot and it isn't happy, there is a draught, too much or too little water or not enough humidity. It should be fairly easy to work out the reason and remedy it. Any questions, just let us know :-)
Supplied as: Pots
Size: 7.5 cm
| | |
| --- | --- |
| Code | FIPIC |
| Botantical name | Ficus pumila |
| Height | 20-60cm |
| Width | 20-60cm |
| Flowers | Nil |
| Climate | Cool to Tropical |
| Availability | Australia wide |
| Frost hardiness | Half Hardy |
| Aspect | Filtered Light |
| Supplied as | Pots |
| Size | 7.5 cm |
| Water needs | 1 |