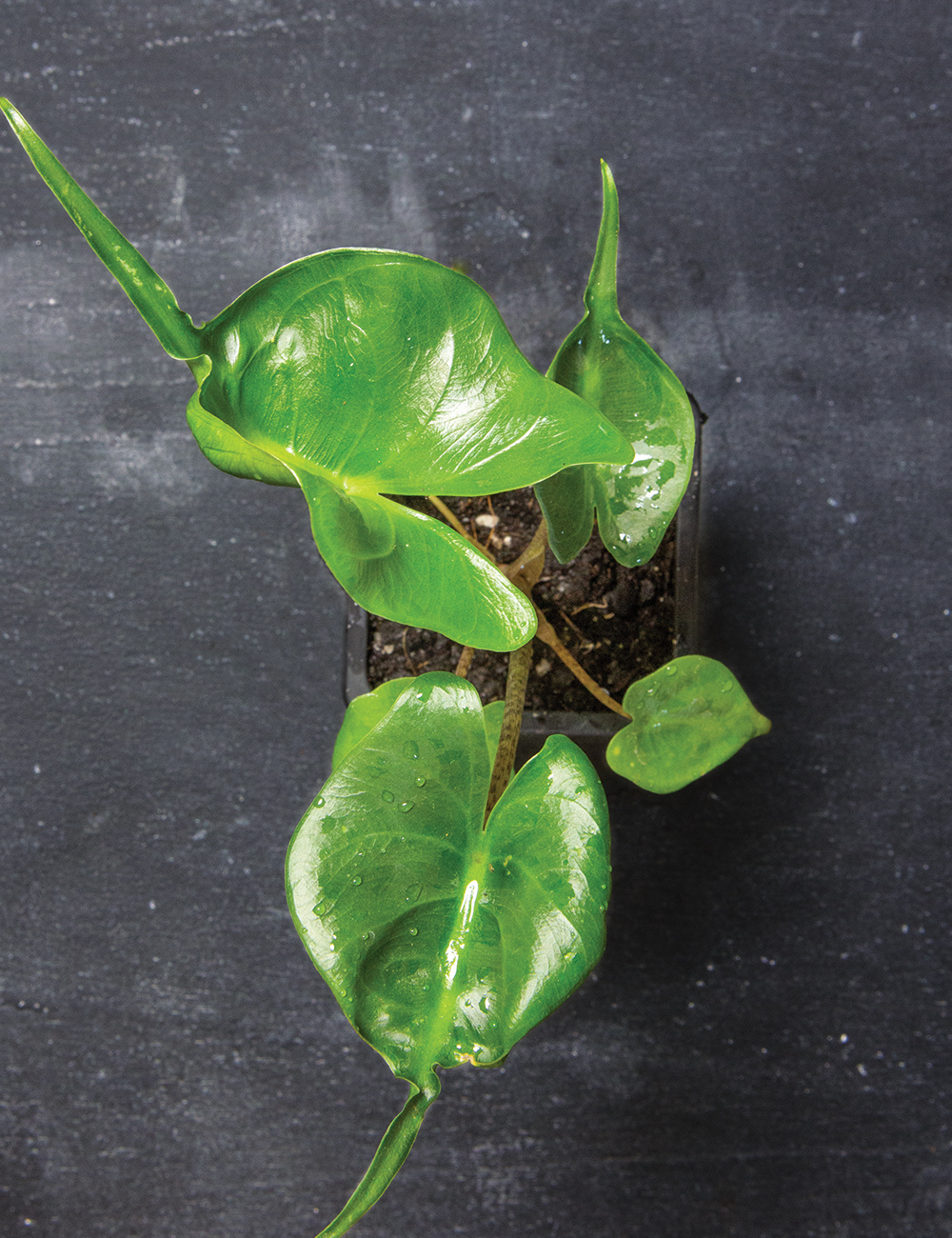 Elephant Ear Plant 'Stingray'
A sting in the tail.
This product is currently out of stock and unavailable.




Green and maroon patterned stems topped with bright green, glossy 'rays' of foliage. It is easy to see how this plant got its name, the leaves curl and fold creating a beautiful effect with a little tail at their tip.
Striking in the pot of your choice, the new leaves are super glossy, and they become more matte as they age.
Commonly known as Elephant's Ears or Jewel Alocasia it is a rainforest plant that originates from S.E. Asia, they love humidity, good drainage and bright, indirect light. Striking in the pot of your choice, with lovely, compact growth.
SIZE (HxW): 60-120cm x 60-120cm
I SEE THE LIGHT: Strong, indirect indoor light. Morning, rather than afternoon sun is ideal. If you have to turn the lights on to read during the day it is too dark. Also great in a shaded courtyard or as an understory plant in sub to tropical regions.
I NEED A DRINK Water a little, often as they don't like to sit in water but do like moist roots. In winter, you can pretty well just leave it to its own devices for two weeks before needing to refresh their reserves.
As they are native to S.E. Asia they love a bit of humidity, you will know if they aren't getting enough as their leaf tips will brown and crisp. To add humidity you could place them over a plate with rocks and water. Or if you want to get very fancy and grow a few of these tropical treats, a humidifier is a good investment. In a well ventilated room a quick spritz of the leaves helps the humidity levels, this is for the warm seasons only, in cool weather it is likely to do more harm than good. Another option is to grow them in a terrarium.
In cool climates it may go dormant over winter, let them be (no food or water) until they start to shoot again. If you don't want this to happen keep it in a nice warm spot and add some humidity (16-30C).
I WILL SURVIVE: In pots choose a good quality potting mix to ensure they have the drainage they need. Choose an option with drainage holes, or be promise to be careful with watering - they don't like to sit in boggy soils. Keep the leaves clean with a regular wipe – this will keep them looking good and growing strong. Use a diluted liquid fertiliser every other month spring/summer. Keep them clear of cold draughty positions or they will sulk. They don't mind being a bit pot bound, as required you can increase the pot size, do this gradually, spring is the best time for this.
Supplied as: Pots
Size: 7.5 cm
| | |
| --- | --- |
| Code | AXMSR |
| Botantical name | Alocasia macrorrhiza |
| Height | 60-120cm |
| Width | 60-120cm |
| Flowers | Nil |
| Climate | Cool to Tropical |
| Availability | Australia wide |
| Frost hardiness | Frost Tender |
| Aspect | Filtered Light |
| Supplied as | Pots |
| Size | 7.5 cm |
| Water needs | 3 |