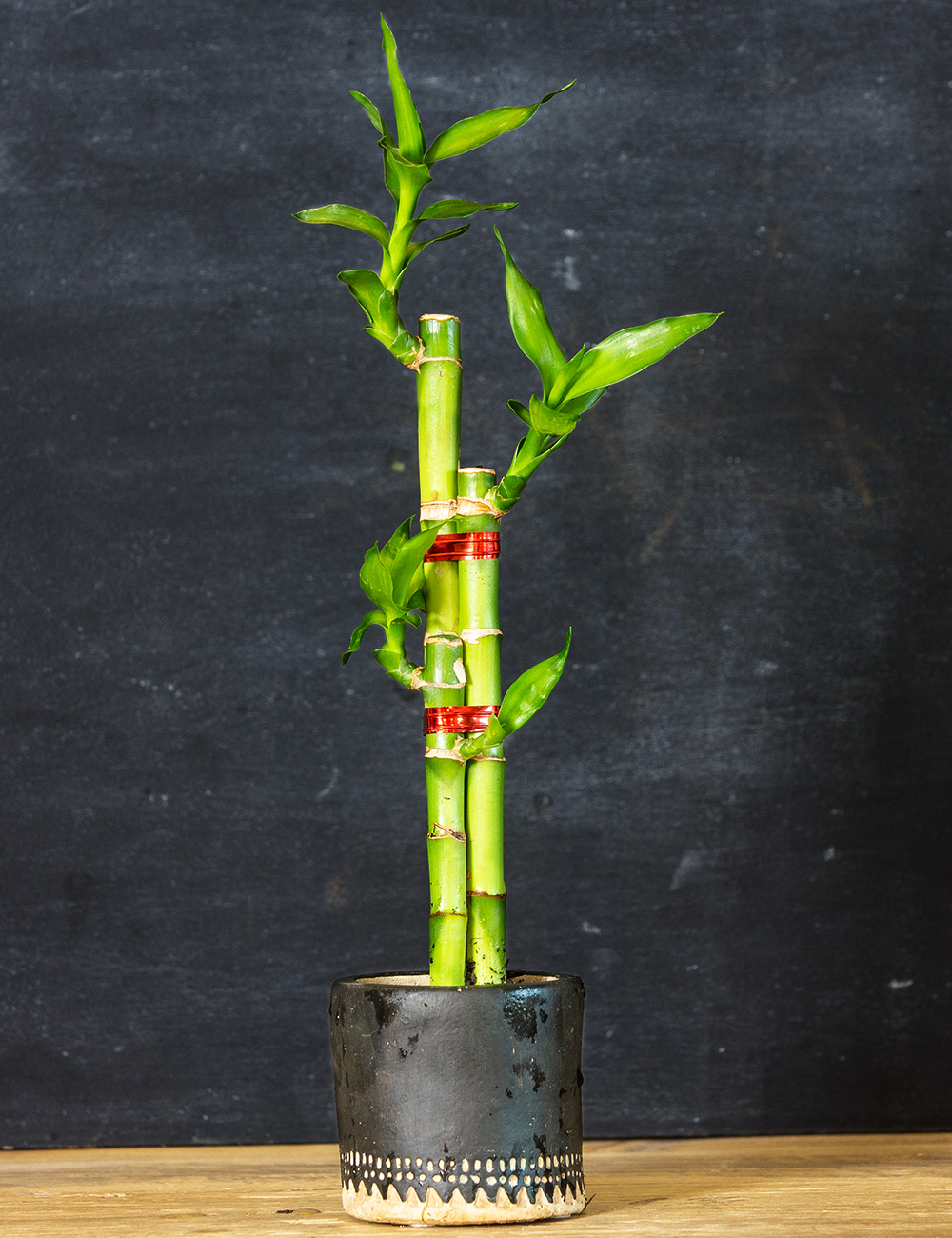 Lucky Bamboo Three stems 15cm 20cm and 25cm
Simple and decorative.
This product is currently out of stock and unavailable.




Three stems at varying length; 15cm, 20cm and 25cm. Narrow, segmented bright green stems with matching leaves. You can add beauty and luck to your home with the addition of this beauty. They can even be grown just in water – so easy.
While not actually a bamboo, the stems and leaves resemble the well known plants. They are often used in Feng Shui. Other common names are Ribbon Dracaena or Love Bamboo. They are native to areas of Africa and Asia.
Size (HxW): 20-60cm x 10-30cm it varies greatly with how they are grown.
See the light: They grow best in a bright, indirect light. They can cope better than most in areas of low light – their leaves will pale and look sickly if there isn't enough light.
Water needs: They can be grown completely in water, so you can have your favourite vase on display all year. They don't like the chemicals, fluoride or chlorine (leaves develop brown tips) so ideally let tap water sit out over night to evaporate the chlorine. Ideally use a bottled, rain or filtered water. You should change it every month or so, rinsing the plant at the same time, then ensuring the roots are fully submerged. In pots, water deeply, then allow to almost dry out before watering again. They will live longer in a potted soil, but you will have at least a good few years in a water vase which is pretty impressive.
I will Survive: In pots use a good quality potting mix to ensure good drainage. Look out for mealy bugs, and use a soapy mix or just remove them by hand, the earlier the better. You can manipulate the growth of the stems through wire, or having them grow towards a strong light source. Wipe the leaves with a soft cloth to keep them looking good and free of dust. If you grow yours in water, there is no need for fertiliser. In a pot add a diluted, liquid fertiliser spring and summer. You can add some rocks to your vase for a bit of decoration, and to keep the stems straight. If the leaf tips yellow it is likely they are too cold or in a draughty area. Feel free to prune unwanted growth or old leaves to keep them looking good.
Supplied as: Pots
Size: 7.5 cm
| | |
| --- | --- |
| Code | DRSGR |
| Botantical name | Dracaena sanderiana |
| Height | 20-60cm |
| Width | 10-30cm |
| Flowers | Not in cultivation |
| Climate | Cool to Tropical |
| Availability | Australia wide |
| Frost hardiness | Frost Tender |
| Aspect | Filtered Light |
| Supplied as | Pots |
| Size | 7.5 cm |
| Water needs | 2 |