Potting a Spring Show with Spring Bulbs
One of the most common questions we get asked about spring flowering bulbs is "will they grow in pots"? Well the answer for the most is yes! In fact, in some cases there are bulbs that actually grow better in pots. Especially the small, rare ones you don't want to lose!
With potted spring bulbs you can achieve some very beautiful effects, on the cheap and without too much effort. From April to early May is the perfect time to plant.

The Advantages of using Pots
Growing your spring bulbs in pots can have advantages too, such as being able to be moved around to where they can be best shown off, or somewhere their fragrance is best appreciated. Once the show is over, you can even hide the fading foliage away behind the shed!
Planting your bulbs in pots allows you some creative freedom; you can indulge in that elegant pot of your dreams or go quirky and put some spring bulbs in an old boot! There are so many wonderful bulbs and containers to choose from, so have fun!
When you buy your bulbs, the flower has already been formed from the previous season. So even in warmer climates, with the right care you are assured of flowers. Plus, if you live in a climate that usually rules spring bulbs out, you can really show off to your neighbours with a stunning spring show.
When you are picking your spring bulb pot or container, choose one that is in proportion to your bulb of choice. For example, one or two Tulips in a wheelbarrow sized container won't be too impressive. A good rule of thumb is to use large, tall containers for large, tall bulbs and small, short containers for small short bulbs. And to get the best display from your potted spring bulbs use a dense planting, you want them to almost be 'cheek to cheek'!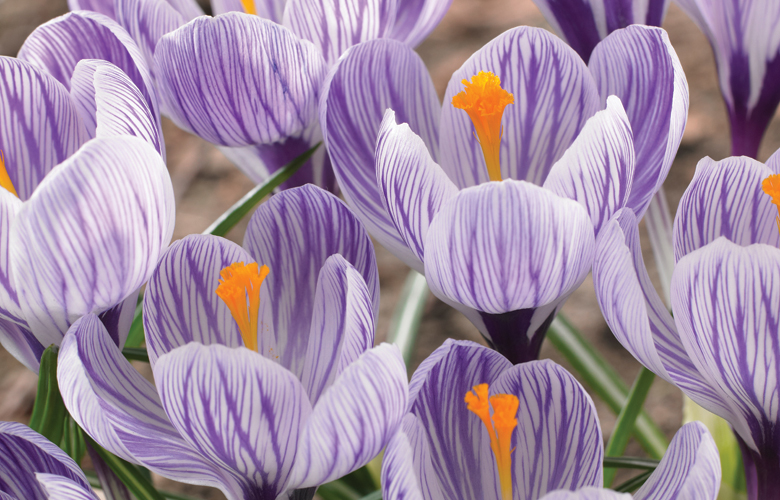 The Best Bulbs for Pots
Daffodils, in all their shapes and sizes show well. Standard Daffodils grow to around 70cm, so a minimum of a 30cm pot and at least 10 bulbs is ideal. Miniature Daffodils will look especially fabulous in small containers.
All Tulips will succeed in pots, just remember, the bigger the Tulip, the bigger the pot you will need. For example Monet Tulips grow up to 80cm, so look best in a large, tall container, whereas the Bokassa range with their more compact foliage are handsome in smaller vessels.
Crocus, these little beauties are very successful in small containers. We have even seen them looking magnificent in tea cups.
Ranunculus, are suitable, but keep in mind they are heavy feeders, so for the best show you will need to add plenty of fertiliser during their growth. You should choose a big container for these guys and because they are so floriferous you will only need around 3-5 bulbs for a 30cm pot. Now that is a cheap display!
Hyacinths, these bulbs are well suited to large squat, or low pots. The flowers have gorgeous colour and fragrance. When they are in pots, you can transport them easily to where they can be best enjoyed, be it indoors or out. (When bringing them inside, it is best to wait until they are in bud.)
Belladonna Lilies, well, is there really anywhere these hardy plants won't grow!? These hardy sun lovers look fantastic in big pots.
Nerines, are an easy choice. For Nerines, you can use a squat pot as their foliage appears after the bloom, this will best show off the flowers.
Cottage Gladioli, the height of their stems and their upright form means you can create a great potted show. Choose a tall pot and plant them close together.
Grape Hyacinths, these little plants look superb in containers, as their floppy foliage grows it will cascade over the edge, softening the pot. Small pots are best for these little flowers.
Spring Star Flowers are a great choice, especially for kids. They are so care free they will even cope with a bit of neglect. Like Grape Hyacinths, their foliage will hang over the pot edge. Choose smaller vessels as they only grow to 15cm tall.
Liliums are a popular choice for potted bulbs. There is a huge range to choose from, such as fragrant Oriental Lilies, colourful Asiatics or classic white Christmas Lilies. You will need at least a 20cm pot for 3 bulbs, and a 30cm pot for 5-6 bulbs.
Iris reticulata are especially good in small containers.
Keep an eye out for our next Field Guide blog post coming soon, which will have the nitty gritty on how to plant your spring bulbs in pots.